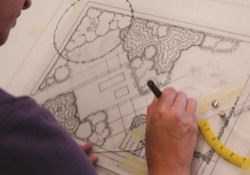 Ransons Gardening and Landscaping - When we design your garden we take great pride and care to create a wonderful outdoor living space. We can design a garden that suits your pocket.
The costs for construction can range from just hundreds of pounds to many thousands of pounds. Whilst we appreciate that not everyone has this sort of money to spend, we promise that whatever your budget, your landscape design will be treated to the same care and attention to detail that we show to all of our gardens.
At Four Seasons we appreciate that for the vast majority of us a garden has to fulfill a whole variety of needs. On occasions, a haven of peace, relaxation and contemplation whilst for others, a place for entertainment, outdoor dining and it also needs to be practical. Yet always one we hope will stimulate the senses. It's therefore with a balance of these aims in mind that we hope to design a garden that will work for your needs. With you to help crystallize your ideas and aspirations, we can formulate a long lasting practical design. A design not only pleasing to the eye but one that will provide you with many years of pleasure to come.
As we not only design gardens but construct them too, we can provide a seamless link from design through to construction until you have the wonderful garden you always hoped for.
Idea Gathering
During this time we distil your thoughts and ideas and marry them with our experience to effectively generate requirements. From this we will create an outline design.
Landscape Design
Once you are happy with the outline proposal and we have your written instruction we will develop the landscaping design concept into detailed visuals and plans which we present to you for your final approval.
Garden Construction
With your garden design and estimate for the work finalized, it's time to begin the hard graft! We carefully project manage the construction process right through till completion. So you can now rest easy while construction gets underway. We will try to ensure that the project is completed on time and within budget.